Nepal Rheumatology Association (NRA) is a non-profit professional membership organization originated with the vision of promoting research, education and knowledge sharing in the field of Rheumatology. Established in 2019, NRA is the first National organization uniting professionals working towards the common goal of establishing state of the art Rheumatic diseases diagnosis and management at a National level.
NRA encourages involvement of professionals from multiple disciplines like general physicians, orthopedist, neurologist, dermatologist and pediatrician who are keen on treating patients with Rheumatic diseases. Rheumatic diseases, commonly known as Arthritis, includes problems that mainly involves swelling, pain, stiffness and decreased range of motion of the joints. However, there are more than 100 different types of Arthritis and some types also affect different body systems and organs and can be life threatening. Patients with rheumatic disease usually suffer from long term disability and functional impairment. NRA has a vision to facilitate research, education and knowledge sharing in the field of Rheumatology such that unitedly we can implement the latest, the most effective  and the most efficient disease diagnosis and management techniques and provide the best patient care to people living with Arthritis.
Rheumatology as a subject has been evolving gradually over the past decade in Nepal with increased diagnosis and advancing treatment of patients with various rheumatic disorders. Newer diagnostic tests and better treatment options are becoming treatment options for Nepalese patients too. Despite a rapidly growing interest amongst the medical fraternity in the subject, there still lacks adequate man-power to serve the entire nation.`
NRA has taken up an initiative to continue medical education and research in Rheumatology to reach all levels of medical fraternity. International conferences are being held to enhance a platform to exchange ideas, discover novel opportunities, meet with colleagues, meet new friends, and broaden their knowledge in the field of rheumatology.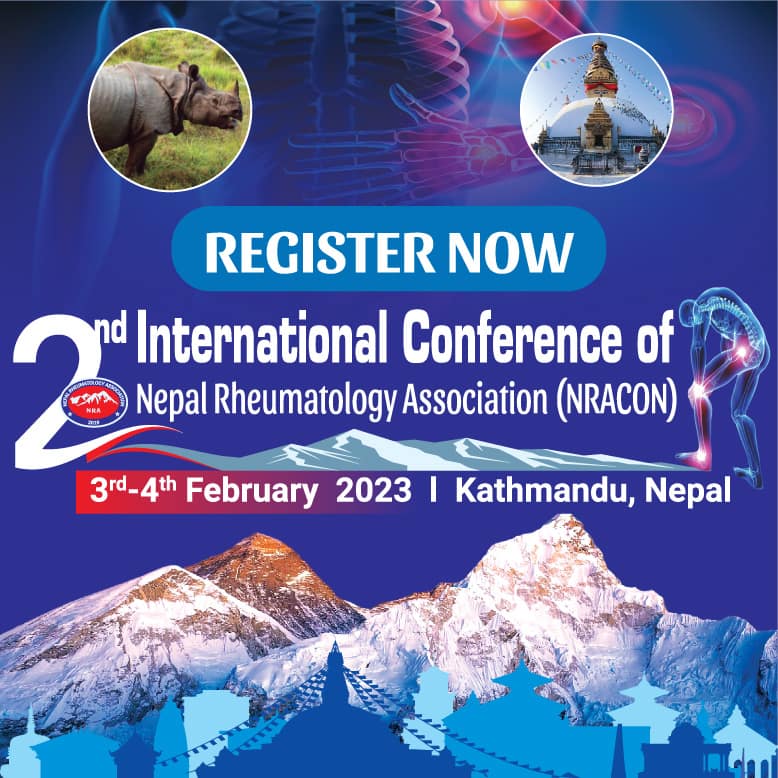 1st International Conference of Nepal Rheumatology Association (NRACON)
Phone No: +977-9801122502 Lalitpur, Nepal info@rheumatologynepal.org.np