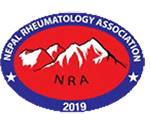 1st International Conference of Nepal Rheumatology Association
Greetings from NRA!
On behalf of the Nepal Rheumatology Association, we would like to invite you to the first ever international rheumatology conference being held in Kathmandu on 27th & 28th September, 2019.
Rheumatology as a subject has been evolving gradually over the past decade in Nepal with increased diagnosis and advancing treatment of various rheumatic disorders. Newer diagnostic tests and better treatment modalities are becoming treatment modalities options for Nepalese patients. Despite a growing interest of medical fraternity in the subject, there still lacks adequate man-power to serve the entire nation.
In this background, NRA has taken up an initiative to continue medical education and research in rheumatology to reach all levels of medical fraternity. The objective of this international conference is to promote a platform to exchange ideas, discover novel opportunities, meet with new friends and existing colleagues, and broaden our knowledge in the field of rheumatology.
We are honored and thankful to have esteemed speakers and scientists from different parts of the world to help us spread the message in this 1st endeavor of NRA.
On September 27, we will have a preconference workshop on musculoskeletal ultrasound (MSUS), which is the fastest growing non-invasive diagnostic modality for the early diagnosis of inflammatory arthritis. The scientific program on 28th September is scheduled for the main academic activity with plenary lectures from national and international speakers.
We request all the participants to interact and engage in discussions so that the meeting will be lively academic event. Your contribution will ensure the success of "1st International Conference of Nepal Rheumatology Association". We would like to thank you in advance for participating in this most prestigious event of the year.

Prof. Buddhi Paudyal
Organizing Chairman
Dr. Binit Vaidya
Organizing Secretary
Dr. Shweta Nakarmi
Scientific Chairman
Registration fees:
| | | | |
| --- | --- | --- | --- |
| Category | Till August 30, 2019 | August 30-Sept 15 2019 | Sept 15 Onwards |
| NRA Members | NPR 5000 | NPR 8000 | NPR 10000 |
| Non-NRA Members | NPR 6000 | NPR 9000 | NPR 12000 |
| Trainee Members | NPR 3000 | NPR 5000 | NPR 8000 |
| SAARC countries | USD 75 | USD 100 | USD 125 |
| Non-SAARC countries | USD 100 | USD 125 | USD 150 |
Trainee members should submit a letter of recommendation from the respective Head of Department and should be submitted along with the registration form.
Mr Nabin Pokhrel
Office secretary, NRA
9801122503
info@rheumatologynepal.org.np
Nepal Rheumatology Association